November 17, 2023
Yφάδια της ζωής. Από το Γεράκι στο Medley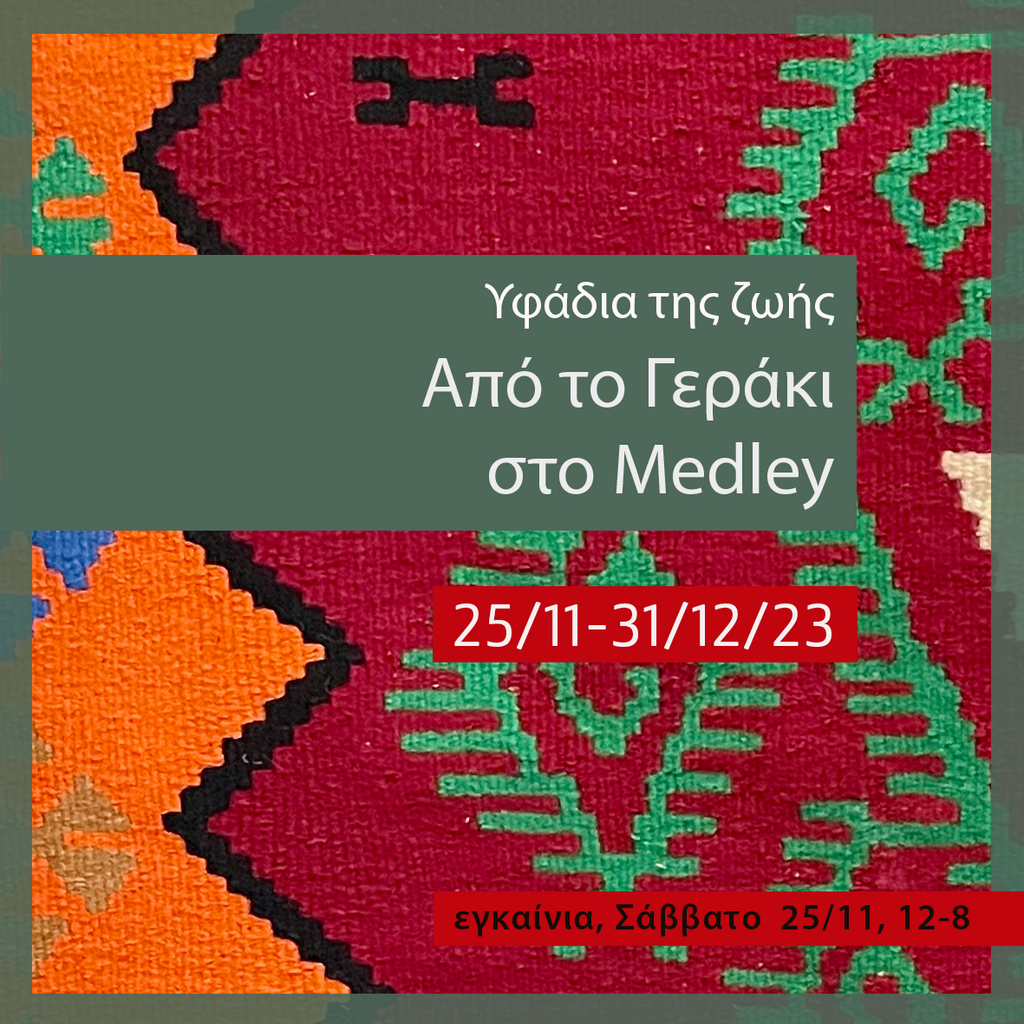 Το Medley συνεχίζει την προσπάθειά του για την προβολή της παραδοσιακής χειρoτεχνίας του τόπου μας. Φέτος, θα φιλοξενήσει με μεγάλη χαρά και προσμονή τη δουλειά των υφαντριών του Πολιτιστικού Συλλόγου Γερονθρών που βρίσκεται στο Γεράκι της Λακωνίας.
Η ένταξη της γερακίτικης υφαντικής τεχνικής στον όρθιο αργαλειό, με τη μέθοδο της ταπισερί, στον Εθνικό Κατάλογο της  Άυλης Πολιτιστικής Κληρονομιάς της Ελλάδος, είναι σημαντικό να αναδειχθεί και οι χειροτέχνες να υποστηριχθούν ώστε να συνεχίσουν την προσπάθειά τους για τη διατήρηση της τέχνης τους. Γνώσεις και πρακτικές που έχουν μεταφερθεί από γενιά σε γενιά, αποτελούν την τεχνογνωσία που συνδέεται με την παραδοσιακή υφαντική τέχνη και είναι το στοίχημα της εποχής μας να μείνει ζωντανή και να αρχίσει να μας αφορά όλους.
Τα τοπικά σχέδια, όπως το Δέντρο της  Ζωής, η Μαργαρίτα, το Πλακάκι, ο Ήλιος και τα έντονα χρώματα των κιλιμιών αποτελούν πηγή έμπνευσης και για τους καλλιτέχνες του Medley.  
Στα εγκαίνια της έκθεσης, το Σάββατο 25/11, η Χρυσούλα Σταματoπούλου, ψυχή της προσπάθειας, θα είναι μαζί μας και θα μας πει λίγα λόγια για την τεχνική του όρθιου αργαλειού και για τους συμβολισμούς των σχεδίων των υφαντών. Σας περιμένουμε λοιπόν, από τις 12μμ μέχρι τις 8μμ για να υποστηρίξουμε τους χειροτέχνες του Γερακίου και να γιορτάσουμε το ξεκίνημα των γιορτών με κεράσματα και κρασιά από την Gargaretta.
Medley continues its effort to promote the traditional craftsmanship of our country. This year, it will host with great joy and anticipation the work of the weavers of the Geronthron Cultural Association located in Geraki, Laconia, in the Peloponese.
The inclusion of the Geraki weaving technique on the vertical loom with the tapestry method, in the National List of the Intangible Cultural Heritage of Greece must be highlighted and the artisans to be supported to continue their efforts to preserve their art. Knowledge and practices that have been passed down from generation to generation constitute the know-how associated with the traditional weaving art and it is the bet of our time to keep it alive. The unique local designs, such as the Tree of Life, the Daisy, the Tile, the Sun and the bright colors of the kilims are also a source of inspiration for the Medley artists.
At the opening of the exhibition, on Saturday 25/11, Chrysoula Stamatopoulou, the soul of this Association, will be with us and will say a few words about the technique of the standing loom and about the symbolism of the weavers' designs. Please join us from 12 to 8 to support the artisans of Geraki and celebrate the beginning of the festive season with treats and wines from Gargaretta bistrot.